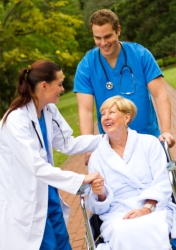 Suffer no more of that pain and discomfort that you are feeling. Turn those difficulties into ease. Make those speech and hearing impairments a weakness no more. Recover now. Be assisted and taken care of properly. Nor-Cal Professional Home Health Care Services, Inc. has your back – we're here to support you.
Mission
Nor-Cal Professional Home Health Care Services, Inc. is guided by a tradition of personal, clinical, and technological excellence. We are dedicated to providing the highest quality home-based patient care with compassion and respect for each person.
Values
Nor-Cal Professional Home Health Care Services, Inc. recognizes these values and their role in fulfilling our mission:
Commitment to Our Patients
We recognize the unique physical, emotional, and spiritual needs of each person receiving health care in the home. We strive to extend the highest level of courtesy and service to patients, family, caregivers, visitors, and each other.
Commitment to Leadership
We deliver state-of-the-art home health services with identified centers of excellence. We engage in a wide range of continuing education, clinical education, and other programs for professionals and the public.
Commitment to Excellence
We strive to create an environment of teamwork and participation, where, through continuous performance improvement, health care professionals pursue excellence and take pride in their work, the organization, and their personal development. We believe that the quality of our human resources, organization, personnel, physicians, and volunteers are the key to our continued success. We provide physicians an environment that fosters high quality diagnosis and treatment. We maintain financial viability through a cost-effective operation to meet our long-term commitment to the community.
At our home health care agency, we strive to meet the changing needs of the community when it comes to personalized care at home. To continually meet their demands, we:
Maintain Quality Home Health Care
Train and Re-train our Home Health Care Staff
Educate our Patients about their health care options
Professionally advice clients on the best home health care program they should take advantage of
Give clients the freedom to practice their independence when possible
Allow clients to receive professional care without having to be confined in a hospital or admitted into a care home
If you have questions for us, please send them online. We will be happy to address your concerns. Contact us today!