Nor-Cal Professional Home Health Care Services, Inc. is all about its people. There is no secret recipe for success as a home health agency. It's open to all that for home health care to be effective, it must be provided with integrity and genuine care. Here, you can expect the same values applied when we care for you at home.
Our Vision at Nor-Cal Professional Home Health Care
To be the leading provider of quality care who exceeds the expectations of our patients, through the care given by our licensed and highly qualified Home Health Care Professionals.
Non-Discrimination Policy
We provide services to homebound patients with a wide range of diagnosis. Pursuant to Title VI of the Civil Rights Act of 1964, Section 504 of the Rehabilitation Act of 1973, Nor-Cal Professional Home Health Care Services, Inc. does not refuse services to discriminate against any person on the basis of sex, age, sexual orientation, mental or physical handicap, race, color, religion, and ancestry or origin.
Being a state-licensed and certified home health agency, we see to it that our clients are receiving the best care at home. Our staff have been rigorously screened and evaluated to prove that they are capable of the qualifications that are structured in our company.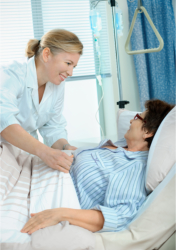 They undergo series of training sessions and attend different classes that are related to their field of expertise and other associated medical health care services. These avenues for further training allow them to have a broader knowledge of their practice – and become better at providing care to clients. We train them to be flexible enough to deal with various health conditions in different situations.
Contact us and learn about our health care services. We welcome inquiries about your medical care plan. We also schedule assessments to determine our patient's specific needs. Call now at (408) 244-6700.